Our History
American Dyestuff Corporation is the continuation in the dye, pigment, and fluorescent whitener business of the Rabinowitz family.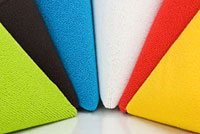 Originated in 1947, they were the founders of Atlantic Chemical Corp. of Nutley, New Jersey and Greenville, South Carolina. The manufacturing sites were eventually sold to Crompton & Knowles/Yorkshire Americas/Dystar.
Today, three generations of this family run American Dyestuff under the direction of Josh Rabinowitz, former President of Atlantic. The company imports, exports, and distributes colors and chemicals to various industries around the world. American Dyestuff provides standard commodities as well as custom manufacturing of newly developed, environmentally safe products for many industries, e.g. security colorants/tagging, photo-imaging, textiles, ink-jet, automotive, detergents, paper, agriculture, plastics, printing, leather, and chemical compounding. Stock is warehoused close to customers, with packaging ranging from specialties in grams to bulk, depending upon customers' requirements.
American Dyestuff works with customers to find products old and new which specially fit their requirements. We also finance purchases and projects in related fields.